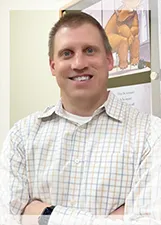 Undergraduate: University of South Carolina, Columbia
Graduate School: University of North Carolina, Chapel Hill

Michael Goley came to RCAM in 2023 and is the first Pediatric Nurse Practitioner to join our practice.


Hometown: I was born and raised in Columbia, South Carolina. I moved to North Carolina in 2001.
Family: My wife April is a Family Nurse Practitioner and we have been married almost 20 years! We have one son who is 10 years old and a daughter who is 9 years old. We also have a dog named Rosie and a cat named Silvy.
Previous jobs: I worked as a Registered Nurse in Pediatrics for over 8 years before becoming a Pediatric Nurse Practitioner. I was faculty in the Undergraduate and Graduate programs at The University of North Carolina and at Duke University. I have experience on the Pediatric Hospitalist service at both UNC and WakeMed and in the newborn nursery.
Other careers considered before medicine: I have always known I wanted to have a career in some area of the medical field.
When first considered working with children: I remember being on a local television program when I was 8 or 9 years old and when asked what I wanted to be when I grow up my response was "I want to work with kids and be a doctor who takes care of kids".
When first considered becoming a Pediatric Nurse Practitioner: During my time at the University of South Carolina I knew my ultimate goal was to work as a nurse practitioner. It was a few years into my nursing career while working at UNC Children's Hospital that I determined that I would pursue the Pediatric Nurse Practitioner route versus the Family Nurse Practitioner path.
Why pediatrics: I loved taking care of children and watching them grow. I feel like I have a natural ability to interact well with children of all ages and enjoy the relationship that develops with families. I am honestly a big kid at heart which is why pediatrics is such a good fit for me!
How has working in Pediatrics changed since having a child? I truly believe lived experiences shape our lives and by having two children I have a better understanding of what it means to be a parent and caregiver. I incorporated these experiences in my practice style and I feel it has made me into a much more rounded provider.
Interests, hobbies: Spending time with my kids and family, soccer, golf, almost anything outdoors (hiking, camping, bushcraft), I try to garden and like to cook!

---
>> To Next Provider Bio >> J. Todd Harris, MD