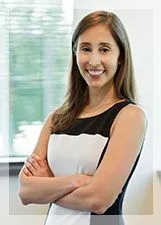 Undergraduate: Northwestern University, Evanston, IL
Medical School: Brody School of Medicine at East Carolina University, Greenville, NC
Pediatric Residency: Wake Forest University at Baptist Medical Center, Winston-Salem, NC
Dr. Mims has lived in Michigan, Thailand and Chicago – but her formative years were spent here in Raleigh. She enjoys movies, plays, concerts, biking and hiking. She also plays the violin.

Hometown: Well, technically I was born in Michigan (huge U of M fan), but I moved to Raleigh at 5 years old, so I consider this my hometown.
Family Activity: I enjoy time with husband and daughter taking walks around their neighborhood.

Favorite Travel: I was an exchange student in Thailand when I was a teenager and that was such an incredible experience for me. I would love to go back and visit.
First Job: My very first job I worked at the Baby Gap in Crabtree Valley Mall as a teenager. I have also worked as a waitress, camp counselor, resident assistant and researcher.
College: I went to college at Northwestern University in Evanston, Illinois and after I graduated I lived in Chicago for two more years. I loved living in Chicago for its excitement, but I definitely do not miss the cold.
What about Deciding to go to Medical School and become a Physician: I have always been motivated by wanting to help others and wanting to contribute to society. I felt that being a primary care physician was one of the best ways to make a difference in others' lives. I also truly enjoy the process of forming relationships with people which is a large part of being a primary care physician.
What about Choosing to Specialize in Pediatrics: I knew when I started medical school that I wanted to do outpatient primary care and I had thought that I would be a family physician. However, I found that when I worked in family medicine I only wanted to see the pediatric patients! When I loved my pediatric rotation during my third year of medical school, I knew it was the right fit. I love the process of watching people grow and facilitating in that process. I also enjoy working with parents and families in addition to patients. And of course, pediatricians are the nicest people!
Current Interests / Pastimes / Hobbies: I have a huge passion for the arts and I enjoy attending movies, concerts and plays. I used to play the violin, but unfortunately it has been hard for me to keep up with it since being in medicine. I also enjoy the great outdoors—hiking and biking are frequent pastimes for me. Of course, all of these interests have taken a back seat to family life.

Favorite Sports teams: I enjoy watching college basketball and grew up as a Duke fan (My Mom works there). I also love watching the Chicago Cubs and Northwestern Wildcats.
Why Back to Raleigh to join Raleigh Children & Adolescents Medicine: Since college I have lived in many different cities in NC and Raleigh is my favorite because of its diversity and plethora of fun things to do. I knew that I wanted to come back to where my family is from as well. RCAM was easily my favorite place to interview because I had such wonderful conversations with the providers and I could see that everyone in the group was so enthusiastic and committed to providing excellent care.
Dr. Mims first day at RCAM (when we knew her as Dr. Ross).

---
>> To Our Next Provider Bio >> Michael G. Goley, BSN, RN, CPNP