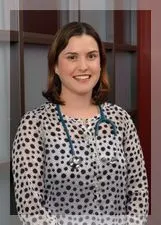 Undergraduate: Albion College (Albion, MI)
Medical School: Michigan State University
Pediatric Residency: Wake Forest University
Dr. Owrey is not from North Carolina – she is from a small town in Northern Michigan. She studied Biology and Chemistry at Albion College.
Family: My husband is Ryan – we were married in 2008 on the weekend after I interviewed for my position at RCAM. We have two children, Hudson and Harper. We like to be active as a family so going for family walks and supporting Ryan as he does triathlons. As my children get older, we hope to continue an active lifestyle. We have one 'fur-baby': Boomer – a Basset Hound mix that we adopted when we lived in Winston-Salem.
Places she's lived: I was born in Petoskey, MI, but I also have lived in Albion, MI, E. Lansing, MI, Kalamazoo, MI (yes there really is a Kalamazoo), Winston-Salem and Raleigh.
Why medicine: I liked the compliment of science and humanity.
Why Pediatrics: Children are fun to be around - they are curious and straightforward. I love partnering with parents and families. It is such a treasure to be able to watch my patients grow up before my eyes.
Favorite part of her workday: I enjoy interacting with patients and families. I love educating new parents and answering all their questions. Getting families to realize that they are doing the best job for their children and giving them confidence is important to me.
Other interests: I like to read, lift weights and work out. In the past I was very into music – I played the piano for years and hope to get back into that; in high school, I was really involved in music through marching band, wind ensemble, pit orchestra and the choir.
Sports allegiance: I'm a Big Ten girl so I pull for the Michigan State Spartans. I'm not the biggest fan, maybe a 5 (out of 10), but enjoy watching them. I have gotten drawn into the world of professional cycling since my husband is a big fan. I've learned there are far more professional bike races than just the Tour de France and often watch those with Ryan.
Recent proud achievement: I'm proud that I have been able to deadlift more than my body weight. I'm working back up to that and beyond post-baby.
---
>> To Next Pediatrician Bio >> Jennifer R. Long, MD