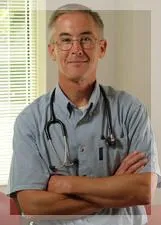 Undergraduate: University of North Carolina, Chapel Hill
Medical School: University of North Carolina, Chapel Hill
Pediatric Residency: National Naval Medical Center (Bethesda, MD)
Dr. Gessner is a true Raleigh native who achieved the rank of Lt. Commander as an officer in the US Navy prior to coming to our office. He served four years after earning a Biology degree at UNC-Chapel Hill.
Family: Rick and his wife Sarah met in medical school. They have 3 children. Their son is an officer in the Navy and two younger daughters are still in school.
Path to Pediatrics: Rick entered the Navy after college where he worked as an Aviation Maintenance Officer. About 2 years in, he made a plan for medical school and 13 years later left with the rank of Lieutenant Commander, a medical degree, and four years into his life as a pediatrician.
2012: That was the year that Rick, Sarah, and their 3 children moved to Kijabe, Kenya where he and his wife worked at the pediatric medical hospital there. They were there for two years. Looking back, he enjoyed practicing medicine "without all the red tape." He remembers the "wonderful people" and the "beautiful place where poinsettias grow to 25 feet tall."
See the Gessner family before and after coming home from a two-year medical mission in Kijabe, Kenya.
---
>> To Next Pediatrician Bio >> Ben M. Meares, Jr, MD