Updated 11/8/2023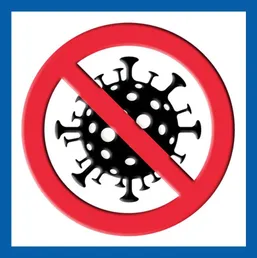 COVID Vaccination Now Available at RCAM
The 2023–2024 updated COVID-19 vaccine is now available at RCAM.

The COVID vaccine schedule is now becoming similar to the Influenza (flu) vaccine schedule: going forward, you can expect each fall season a new updated COVID vaccine will become available just like the flu vaccine becomes available.

You may remember we previously offered the Pfizer COVID vaccine. Beginning this season, we will be offering Moderna's version of the updated COVID vaccine due to advantages with storage and safety.
Updated COVID vaccine recommendations from the CDC are located here.
In general, the following is what is recommended for the pediatric population:
6 MONTHS THROUGH 4 YEARS OLD

If your child was was previously fully vaccinated, it is recommended that they get one dose of the updated COVID vaccine.
What brand of COVID vaccine? If possible, same brand as previously given but they can receive either Pfizer or Moderna's version
This age group is a little more complicated: more details can be found here on the CDC website.
5 YEARS AND UP
Five and up are up to date after they have received one dose of the updated vaccine.
What brand of COVID vaccine? This dose does not have to be the same brand of COVID vaccine that they previously received.
More details about recommendations for this age group can be found here on the CDC website.
---
Other Places Where Your Child Can Get COVID-19 Vaccine:
CDC has a useful online tool for locating COVID-19 vaccination sites at vaccines.gov.
Wake County Health Department - For appointments, call 919-250-1500 Monday thru Friday 8:00am to 5:15pm or sign up online.

Most other pharmacies like CVS and Walgreens are offering COVID-19 vaccine for children ages 3 years and up.
---
12/16/2022
Emergency Use Authorizations (EUAs) of the Updated (Bivalent) Moderna and Pfizer-BioNTech COVID-19 Vaccines Now Include Use in Children Down to 6 Months Old
This announcement came on December 8, 2022.

Here is the statement from the FDA which includes a good explanation of who is recommended to get the booster and who is not. There are some nuances to this recommendation.
---
06/18/2022
COVID-19 Vaccine Now Available for ages 6 months to 4 years old
We finally have a COVID-19 vaccine available for young children. https://login-nc.uvax.one/logi...
On June 18, 2022, the CDC - based on the recommendation of their Advisory Committee on Immunization Practices (ACIP) - approved two COVID-19 vaccines for children under 5 years old.
The pediatricians at RCAM enthusiastically endorse this recommendation.
Helpful link: From the AAP's website healthychildren.org, what you need to know about COVID vaccination under 5 years old.

---
11-02-2021
The ACIP has Recommended COVID Vaccine for Children 5 to 11 years old.
Most pediatricians follow the recommendation of the CDC's Advisory Committee on Immunization Practices (ACIP) about who should get vaccine.
That committee met Tuesday, November 2, 2021 and voted overwhelmingly to recommend COVID vaccine for children ages 5 to 11 years old.
---
10-29-2021
FDA Grants EUA for COVID Vaccine for Children 5 to 11 years old
On Friday, October 29, 2021, the US Food and Drug Administration (FDA) granted emergency use authorization (EUA) for the Pfizer COVID-19 vaccine for patients aged 5 to 11 years old.
The American Academy of Pediatrics has summarized information about this new recommendation here.