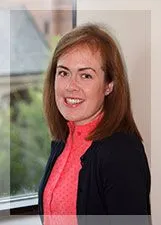 Undergraduate: Davidson College
Medical School: ECU Brody School of Medicine
Pediatric Residency: ECU Brody School of Medicine

Not only is Dr. Lily Harris another Raleigh native, she is also a native of Raleigh Children & Adolescents Medicine – she is our first pediatrician who also as a child was a patient in our practice.
Family: My husband is Mike Harris who is a family medicine doctor. We married in 2012, had one daughter Carrie Anne, in 2014. We have one dog, a black lab named Finley. We love spending time in the water (whether it's the beach or a wading pool in our driveway), hiking, exploring parks and museums.
Hometown: Raleigh
Things you like about Raleigh: all the great opportunities for outdoor adventures, cheering on local sports teams, arts, and music
Favorite Vacation: anywhere with a beach
Previous jobs: camp counselor
Other careers considered before medicine: veterinarian
When first considered becoming a pediatrician: kindergarten
Why pediatrics: I love taking care of children and their families and watching them grow.

Interests, hobbies: running, hiking, spending time with family, cooking, playing the viola
Sports allegiance: NC State by marriage, anyone but UNC by birth
Recent proud achievement: We moved into a new house with a toddler without breaking anything.
How has being a Pediatrician changed since having a child? I feel like I relate much better to the families I take care of - understanding more fully that being a parent is both the best and hardest job ever.
Read about: Dr. Lily Harris' first day at RCAM

---
>> To Next Pediatrician Bio >> Emily L. Mims, MD