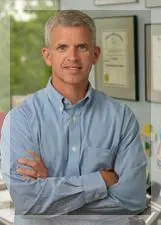 Undergraduate: University of North Carolina, Chapel Hill
Medical School: University of North Carolina, Chapel Hill
Pediatric Residency: Greenville Hospital Systems (Greenville, SC)
Another native of Raleigh who went to UNC-Chapel Hill, but here's a twist: Dr. Meares' undergrad degree was in Business, and he worked for a bank before returning to Chapel Hill for his medical degree.
Family: My wife is Laurie, and we have four mostly grown children.

Why pediatrics? I have always enjoyed kids, and I knew that I could always feel good about a day spent trying to improve the health of children.

How has having four children changed the practice of pediatric medicine for you? Having four kids helped me learn more about the challenges of parenthood, the expected childhood developmental milestones, and how to deal with various behaviors of kids today.

Favorite part of the workday? I now have some patients in college that I have seen since their birth - that experience is a lot of fun.

Favorite team? Scale of 1-10: how big a fan? Dr. Meares rates himself as a 10 out of 10 when it comes to his UNC fandom [Editor's note: as a witness to his fandom, this is a modest estimate].
Interesting fact: I drive a 1989 Toyota Land Cruiser, and, at last check, the odometer reads 311,000 miles.
---
>> To Next Pediatrician Bio >> Jamila I. Fletcher, MD